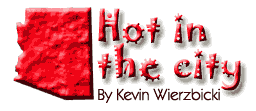 Voodoo Sex Cult's A Year and a Day
.
Exposed! We reveal all the dirty little secrets of Arizona's Voodoo Sex Cult (and you're gonna love it!)
Voodoo Sex Cult - A Year and a Day
I know what you're thinking. Voodoo Sex Cult? Where do I sign up? Act now and you'll get a spell bag full of twin lead guitar riffs sure to scare off your enemies ("Down and Dirty"), sultry Sammy Hagar-style singing that'll attract the opposite sex ("Cuttin' Loose") and some slowly-smoked swampy gris gris that can be used liberally whenever you need to banish bad vibes ("Fade Away"). Voodoo Sex Cult plays rock 'n' roll like they did back in the '70s; with two lead guitars ripping away while golden-throated singer Royce Taghon wails passionately, the band plays good old fashioned hard rock as it used to be heard before the genre got bloated and full of itself.
A few tunes lean a bit towards southern rock and sometimes the drum work of Doyle Meredith adds a touch of thrash and some songs deviate from the classic hard rock sound; the superheated groove of "Dead Season" for example is the kind of music that inspired the "grunge" era.
Everyone from bikers to metal heads will dig A Year and a Day, and if the band can get on a national tour, so will everyone else.
Hometown: Prescott Valley
Learn more about the band here.
.
---