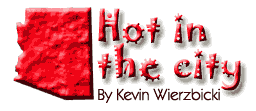 The Resonars - Crummy Desert Sound
.
Okay, pay no attention to the album title; Resonars main man Matt Rendon must have his reasons for dubbing this collection
Crummy Desert Sound
but it is certainly not an apt descriptor for the music contained therein.
The Resonars are the kind of band that magazines like Shindig! rave about, proponents of groovy '60s sounds like the Beatles-informed garage rocker "Tomorrow Gears," the surf rockin' "Invisible Gold" and early Who homage "The World is Wrong." "Expectations" is psych-tinged power pop with Keith Moon-style drumming and feedback-drenched guitar solos that stop just short of a freak out. And so goes the rest of the very tasty set list.
Rendon definitely knows the garage/psych era he's mining here; anyone who likes the Nuggets compilations should have Crummy Desert Sound right alongside. Even better, this is a vinyl release so you can listen in style.
Hometown: Tucson

.
---