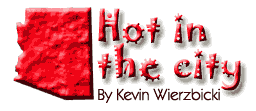 Lexa Raquel, Cecile Hortensia, Triple Double Band and Ladybird
.
A battle of the sexes in the desert? Here's a quick listen to four new releases from Arizona-based acts, and, call us old fashioned but we'll let the ladies go first.
Lexa Raquel
"One of a Kind"
Desert Sol Records
Hometown: Tucson
Currently a student at the University of Arizona, Lexa Raquel is on the fast track to becoming a pop star. She's already signed an endorsement deal with Daisy Rock Guitars and when "One of a Kind" first hit the Billboard charts it entered above Radiohead's single. "One of a Kind" is a perky pop tune reminiscent of something Alicia Keys might do, a good showcase for the young singer's voice that's set to a contemporary arrangement featuring synth parts and a handclap-style rhythm. Lexa is barely out of her teens but this is not teeny bop music; expect big things to come from this young talent as she matures.
Cecile Hortensia
Papillons
Electric Lotus
Hometown: Phoenix
All the music on this album was written by Hortensia and the country-tinged "This is My Home" is about the Arizona desert and "Coyote" and "Cactus Road" are also southwestern in flavor. But Cecile is originally from France and overall her music is very Continental; you can hear her homeland via the desert songs and of course it's very obvious when she sings in French, like during "Les Papillons Dans L'Estomac," "Vers Les Etoiles" and the haunting "La Nostalgie du Temps Present." Hortensia's delivery alternates between a breathy near-whisper and a warble and everything is as delicate as the butterflies (papillons) that the album title refers to.
Check it out here.
Triple Double Band
>IV (Greater Than Four)
Fire City
Hometown: Tucson
We've championed the Triple Double Band in this column before and with good reason; they're one of the most original bands working in Arizona. Don't confuse "original" to mean "wacky" though; TDB steeps their songs in classic pop, rock and R&B references. "Step a Little Closer" for example is a smooth and sentimental end-of-the-dance number with a '60s feel and a great R&B sax line, all of which make you want to hold your baby closer. Sax also highlights the reggae lilt of "Love Revolution" while "Constellations" recalls the Grateful Dead circa American Beauty. Fans who remember what "underground radio" sounded like in the '70s will find lots to like here.
Check it out here.
Ladybird
Ontological Physicalism
Handshake
Hometown: Phoenix
Ladybird calls their music "hillbilly metal;" on the title song that translates to a sludgy barrage of fuzzy guitar, bashing cymbals and "evil" vocals. "Gone Away" adds a little attention-grabbing shrill noise to the sludge as it creeps along ominously as if it were your worst nightmare, oozing out of a darkened closet and heading straight for you! Yes, it's definitely not for everyone but if you like doom metal you'll have a lot of fun here.
Listen here

.
---